On August 25, the first "Time Cup" Science Popularization Contest was successfully held. All units actively responded to the call of the competition, and a total of 27 works from 17 units participated in the competition. President Kuang Shangfu, Secretary of the Party Committee Peng Jing, Vice Presidents Wang Xiaogang, Wang Jianhua, Li Jinxiu and Ding Liuqian, Secretary of the Discipline Inspection Commission Song Shufang, Chairman of the Trade Union You Jianqing, Chief Accountant Zhang Xiangdong, Chief Engineer Peng Wenqi, Institute leaders Xia Lianqiang and Cao Wenhong, as well as the heads of the Publicity and Information Department of the General Office of the Ministry of Water Resources and the Second Science and Technology Department of the National Science and Technology Division, attended the competition and served as judges. Principals of all affiliated units, news propagandists, staff representatives and others watched the competition.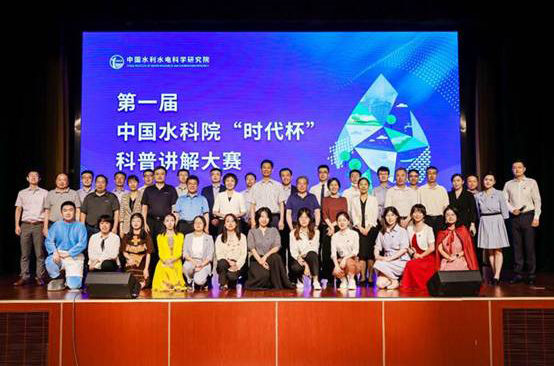 This competition aims to implement the important statement of the General Secretary on science popularization and the directive spirit of the important speech on water control, fulfill the responsibility and obligation of scientific research institutes to carry out science popularization, promote the sharing of scientific and technological achievements of water conservancy and hydropower, improve the public's scientific literacy, and promote the formation of a good atmosphere of emphasizing science, loving science, learning science, and using science in the whole society.
The contestants carefully prepared, and their works closely followed the theme of the times. Focusing on the hot issues of public concern, such as flood and drought disaster prevention, intensive and economical utilization of water resources, optimal allocation of water resources, ecological protection of large rivers and lakes, and smart water conservancy, they spread scientific ideas, popularized scientific knowledge of water conservancy and hydropower, and vividly demonstrated the scientific and technological innovation of our institute to support the high-quality development of water conservancy and hydropower, A wonderful science popularization feast was held for everyone. After three hours of fierce competition on the court, the competition produced three first prizes, five second prizes and seven third prizes. At the same time, four excellent organization award units were selected according to the organization of the competition and the work results.
The successful holding of the first "Time Cup" Science Popularization Contest of IWHR promoted the sharing of scientific and technological achievements in water conservancy and hydropower, trained excellent science popularization talents, and contributed to attracting more water conservancy and hydropower workers to participate in science popularization and promoting the comprehensive development of water conservancy and hydropower science popularization.