The Overall Design Scheme of RO Desalination Technology
With many years of practical experience BIC desalination engineers, not only in term of grasping desalination device system of reverse osmosis membrane, high-pressure pump, the performance of the core products such as energy recovery device, and accumulated rich experience in practical engineering, can according to the customer provide the raw water quality, water rate and water production of water quality requirements, such as electrical control requirements to provide customers with technical consulting, system design and maintenance and other after-sales service technical guidance, etc. As an unmatched seawater desalination plant supplier, we would like to provide the most excellent technical services , water treatment plants and solutions to customers around the world.
Seawater desalination process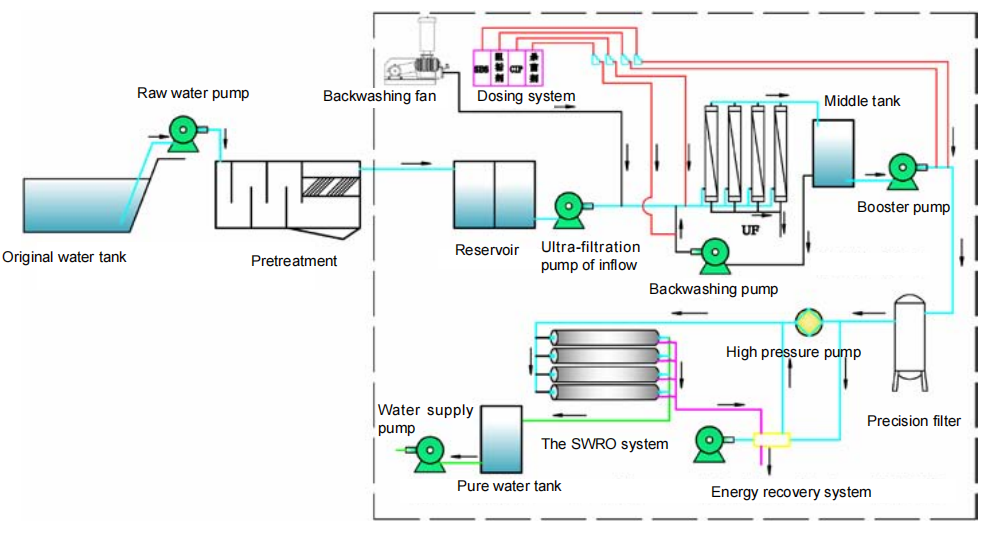 Seawater Desalination System Built in Plant
The facilities location of the complete set of seawater desalination system is in a built factory. The whole equipment in strict accordance with international industry standard design, manufacture, installation and use the most advanced technology for energy recovery device and control. BIC company provides design, production installation and debugging of turnkey project.


Containerized Seawater Desalination System
BIC condensed the desalination design concept in the container, international transportation, not only satisfy the full again enough customers for delivery and installation and debugging cycle shortening. The system can be operated in a short period of time to making qualified fresh water supply, especially suitable for the coastal water engineering, remote areas or island region. It is selective to be used as civilian or military, and equipment could be fixed installation or removable.


Product Specification of Containerized Seawater Desalination Plant


Product Model of Containerized Seawater Desalination Plant
Model

Parameter

SW-6S

SW-12S

SW-18S

SW-24S

SW-50C

SW-70C

SW- 120C

SW- 160C

SW- 220EC

SW- 320EC

SW- 500EC

SW-640EC

Water quantity m3/d
6
12
18
24
50
70
120
160
220
320
500
640
Rated recovery%
25/28
30/32
30/32
30/32
45
45
45
45
45
45
45
45
Energy recovery device
/
/
/
/
/
/
/
/
iSave21
iSave21
iSave40
iSave40
Overall dimensions(mm)
length
1100
1100
1300
1500
6000
6000
6000
6000
12000
12000
12000
12000
wide
600
600
600
600
2400
2400
2400
2400
2400
2400
2400
2400
height
1600
1600
1800
1800
2800
2800
2800
2800
2800
2800
2800
2800
Power consumption
3KW
6KW
6.6KW
8.5KW
25KW
28KW
45KW
60KW
50KW
68KW
88KW
120KW
Why Take BIC as The Preferred Choice?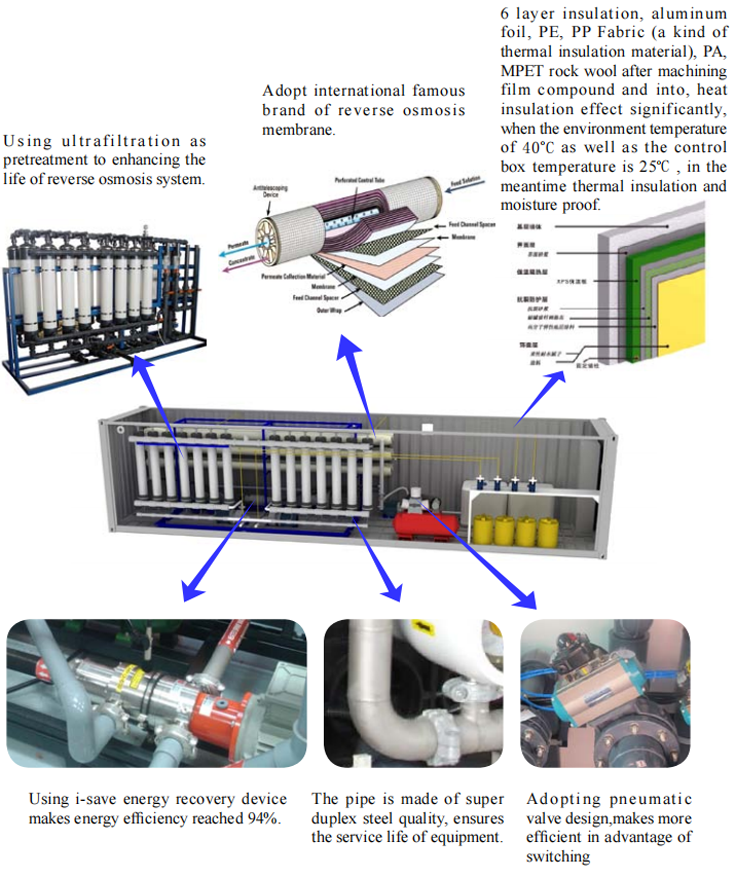 Welcome to contact us for any question or support!