Promoting the construction of digital twin watershed is the inevitable requirement to adapt the development situation of modern information technology. In the new development stage, cloud computing, big data and artificial intelligence technologies have developed rapidly, and the digital conditions for promoting the transformation of water conservancy development to digitalization, networking and intelligence have been fully met.
Promoting the construction of digital twin watershed is an urgent requirement to strengthen Watershed Governance and management. To strengthen the management of river basin governance and realize the unified planning, governance, dispatching and management of river basin, digital Lisheng river basin must be taken as a strong technical support.
The construction of digital twin watershed will drive the construction of intelligent water conservancy, and improve the scientific, accurate and efficient ability and level of water conservancy decision-making and management through digital, networked and intelligent thinking, strategies, resources and methods. To promote the construction of digital twin watershed, we should follow the requirements of demand traction, application first, digital empowerment and capacity improvement, take digitization, networking and intelligence as the main line, take digital scene, intelligent simulation and accurate decision-making as the path, and take the construction of data, algorithm and computing power as the support to realize the functions of prediction, early warning, rehearsal and plan.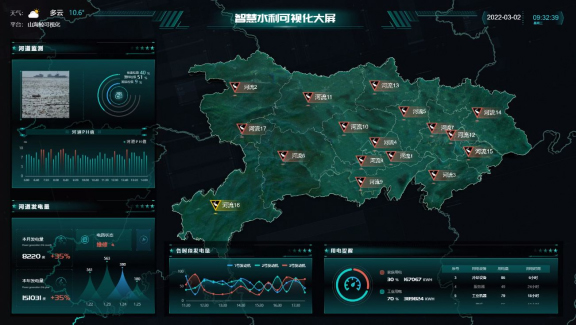 In terms of the integration and application of the digital twin river data sensing platform based on the low head sluice gate, taking the national newly-built or built low head sluice gate as the carrier, the internal and external information sensing collection of the gate and its river channel and watershed is carried out, which not only ensures the safety monitoring and evaluation of the gate and accurate dispatching control, but also serves the same level of the Ministry of water resources, watershed management institutions, local water conservancy departments The project management unit and the river lake leader system and other units provide accurate river channel and watershed information assurance, which strongly supports the three-level data base of river water conservancy projects.