On July 13, Ung Sing Kwong, chief operating officer of Sarawak Energy, and the International Hydropower Association(IHA) visited IWHR to exchange views on the development and utilization of Hydropower resources, cascade reservoir operation and dam safety monitoring. Vice President Wang Jianhua met with the delegation, experts from the International Department, the Water Resources Institute, the Hydropower Center as well as leader of BIC Hydraulic Elevator Dam project attended the meeting.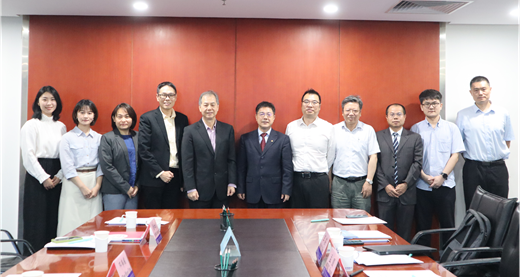 Wang Jianhua extended his welcome to Ung Sing Kwong and his delegation. He expressed his appreciation to Sarawak Energy for actively fostering international partnerships in recent years, deeply participating in the green and sustainable development of global Hydropower and helping the energy transformation, and thanked IHA for building a communication platform. He expressed the hope to deepen cooperation and exchanges with Sarawak Energy in water resources, Hydropower development, dam safety and other fields, and contribute to the global clean, green and sustainable development.
Ung Sing Kwong expressed his gratitude to IWHR for arranging this technical exchange. He said that Negeri Sarawak has rich Hydropower resources, formulated the cascade Hydropower development long- term planning. They hoped that through cooperation with IWHR and other scientific research units, Malaysia will improve its professional technical level in reservoir group joint operation, flood forecast and early warning, and look forward to enhance the understanding of both sides through this exchange and start new development of cooperation in the future.
Experts from IWHR Water Resources Institute, Hydropower Center and BIC respectively made technical reports on the innovation theory, technology application and cooperation prospect of water resources management, the situation of dam safety management and the application of new technologies in China, and the promotion and application of composite dam. The two sides had in-depth discussions on the software development of dam safety monitoring and the long-term and short-term forecast accuracy of hydro-meteorology, and exchanged views on the 2023 World Hydropower Congress.
If you want to know more information about Woven Wire Mesh and Welded Wire Mesh, please contact us. We will provide professional answers.
Explore [The Insider's Views](https://www.bic-iwhr.com/company-profile/).