The UN Water 2023 Conference was held at the United Nations Headquarters in New York, USA, from 22 to 24 March 2023. On March 21, as a side event of the 2023 UN Water Conference and the theme of this year's World Water Day, IWHR, together with its affiliated international organization, the International Association of Hydraulic and Environmental Engineering (IAER), and many other organizations, held an online seminar on "Sustainable Water Engineering - Uniting Global Forces".
The seminar, co-chaired by former IAFR Vice President Angelos-Findikakis and IAHR Executive Director Tom Soo, was designed to promote cooperation and exchange between water engineers and managers and other sectors to contribute to the achievement of global sustainable development goals. The opening speech was given by Professor Lee Xingwei, President of IAHR, President of the Macau University of Science and Technology and "Water Scientist" of IWHR. He briefly introduced the three strategic directions of IAHR and the high quality online seminars conducted in the past three years.
Through case studies such as the Marine Reservoir, WATERMAN Coastal Water Quality Management Model and Artificial Intelligence System, and Sand-Motor Dutch Artificial Beach Project, the importance of water engineering and AI innovation for achieving sustainability was illustrated.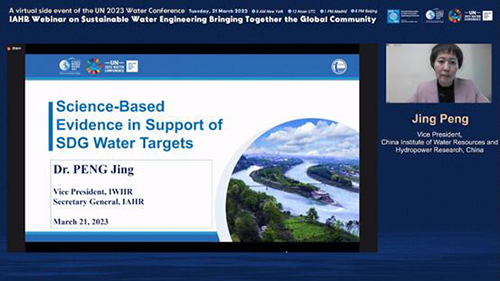 Peng Jing gave a presentation on "Scientific Evidence in Support of Sustainable Water Development Goals".
Peng Jing, Secretary of the Party Committee of IWHR gave a presentation entitled "Scientific Evidence to Support Sustainable Development Water Goals". She briefly introduced China's water profile and the four major water problems faced by water shortage, water disasters, water environment pollution, water ecological degradation, and the new era of "water conservation first, spatial balance, system management, two-handed efforts" of water management ideas, introduced the Academy of Water Sciences "nature - society" dual water fragrance ring Theoretical anti-methodology, water and drought disaster monitoring and dawdling warning forecast and risk management practices and effectiveness, integrated management of water environment pollution, water ecological protection, happiness
River and lake evaluation index system, etc., emphasizing the importance of strengthening global cooperation, calling for win-win cooperation and sharing the future.
In the afternoon of 23rd, New York local time, the International Research Center for Sustainable Development (IRCSDD) hosted a side event on "Big Data for the Planet: Rule Changes to Help Achieve UN Sustainable Development Agenda Goal 6 (SDG 6)" at the United Nations Headquarters. Peng Jing, Secretary of the Party Committee of the Academy of Water Sciences, was invited to attend and speak at the conference.
Representatives from UN Water, FAO, MVO, DNESCO, Global Water Partnership GWP, International Groundwater Resources Assessment Centre IGRAC, Academy of Water Sciences and Norwegian University of Life Sciences, as well as youth representatives from several NGOs in Africa, Europe and the Americas, totaling more than 50 participants, attended the conference.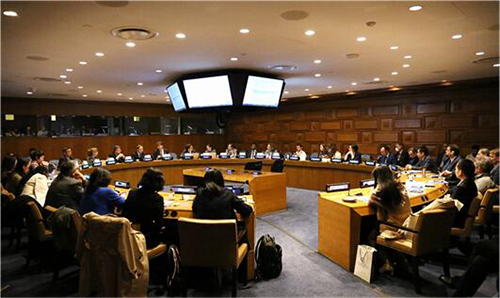 Peng Jing pointed out in her speech that the process from data to information, then to knowledge, and finally to decision making is a continuous progressive process of realization, a process of base-hand knowledge and empirical evidence. There are some challenging and difficult points in this process. First is the perception and acquisition of water data, the need to continuously expand the means of data perception, the use of "air - sky - ground - network", three-dimensional monitoring system to strengthen data acquisition.
Secondly, how to combine physical models based on hydrodynamics and social models based on statistical prediction in the field of water resources, to ensure high fidelity of the digital Liyuan simulation process and physical processes, into information and knowledge available to decision makers, is also a challenge. The Chinese Ministry of Water Resources proposes to promote the construction of digital twin water conservancy and accelerate the construction of a smart water system with forecasting, pre-replacement, pre-show and pre-programming functions, which is actively practiced in the process of supporting special decision management.
She suggested that we should follow the guidelines of "data for good", promote the safe and rational use of big data, and bring the value of data into play to help achieve the water-related goals of the UN 2030 Agenda for Sustainable Development.