On the morning of August 21st, Austrian local time, the 40th IAHR World Congress was held in Vienna on the Danube. IWHR delegation led by President Dr. Peng Jing attended the conference and delivered an opening speech. More than 1,300 experts and scholars from nearly 70 countries and regions attended the conference. Experts from IWHR and representatives of scientific research institutions, universities, academic associations, enterprises and institutions inside and outside the water conservancy system attended the meeting and actively participated in the one-week academic exchange.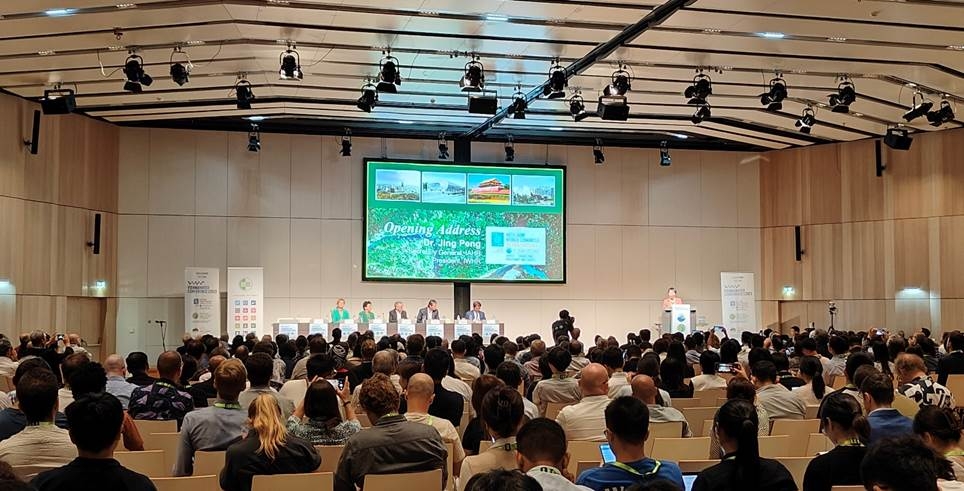 IWHR Vice President Dr. Peng Jing spoke at the opening ceremony
With the theme of "River-Connecting Mountains and Coasts", this conference will focus on the whole process and chain of rivers from mountains to oceans, and build a platform for countries around the world to share new ideas and new practices in river governance. As an affiliated Secretariat unit of IAHR, IWHR has participated in the preparation of the conference. It will continue to support the development of IAHR, work with the world, further promote the dissemination of knowledge, share ideas and experience, explore the frontier of science and technology, and make greater contributions to the sustainable development of water and environment.

The conference by the University of Natural Resources and Life Sciences(BOKU), including river research and management, delta and coastal engineering, sediment transport and geomorphic dynamics, extreme weather integrated management and climate change, environment and society, urban water and water industry, water conservancy engineering and water management, calculation and experiment methods and so on eight big issues. In a week-long meeting, IWHR experts will attend several academic exchanges, including IAHR council meeting, water seminar, digital twin water conservancy experts dialogue, etc., and mountain torrent disaster forecasting technology, ecological hydraulics, river network and pipeline hydraulics, river sediment, water resources management and other fields as academic report, share the latest research progress.
Whether you need more information, samples, a quote, or advice for a project, we would be delighted to talk to you: https://www.bic-iwhr.com/contact-us/