On September 11th, the 18th World Water Congress was grandly opened at Beijing International Conference and Exhibition Center. With the theme of "Water for All Harmony between Humans and Nature", the conference was held at the same time with the main exhibition of China's water control achievements. The exhibition was organized around the contents of scientific and technological development, smart water, survey, design and consultation, engineering construction management, technical equipment, unconventional water, etc. The exhibition set up nearly 20,000 square meters of exhibition area, displaying advanced water control concepts, achievements, technologies and products at home and abroad in an all-round way.
With the theme of "National Water Network, Technology Enabling", the Chinese Academy of Water Resources set up a 60 square meter theme exhibition hall at the exhibition. Through the form of stereo light boxes and video exhibition, it vividly, vividly, all-roundly and multi-anglely displayed the major national strategies in serving the Beijing-Tianjin-Hebei coordinated development strategy, ecological protection and high-quality development of the Yellow River Basin, Yangtze River protection and economic belt development, high-quality development of the national water network and the follow-up project of the South-North Water Transfer, the theory and evaluation methods of the Happy River, as well as the major scientific and technological innovation achievements in six major fields of water security, water resources, water ecology, water culture, water engineering and water strategy. At the same time, hinged movable gate, underwater nondestructive testing robot, integrated assembled in situ water ecological restoration equipment, Internet of Things smart water meter, ultrasonic smart water meter, TDU series intelligent multi-channel ultrasonic flowmeter and many other physical exhibits were also presented in the exhibition.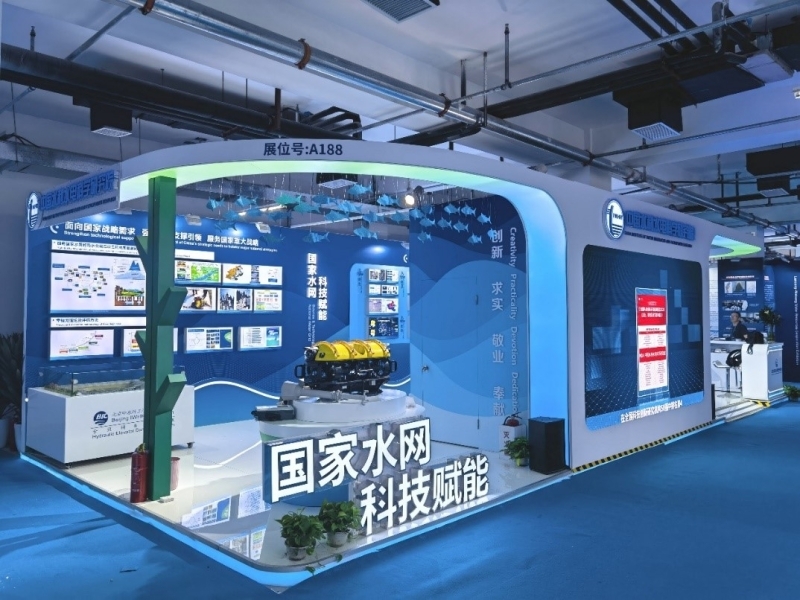 During the exhibition, our exhibition hall attracted many domestic and foreign experts and scholars to visit, and conducted on-site discussions and exchanges with our technical personnel, which effectively improved the display and influence of our scientific and technological innovation achievements.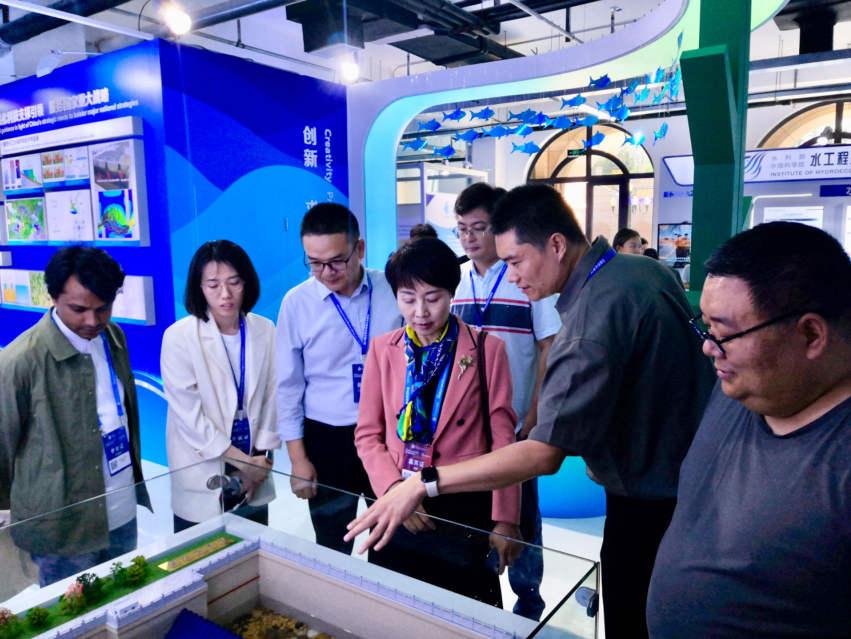 It is understood that there are 88 units participating in this exhibition, among which 71 are domestic and 17 are foreign. At the same time, the exhibition hall also set up a special area for academic papers, which showed high-level and representative academic papers from all over the world.
Representative On-Site Exhibits
Hydraulic elevator dam (HED)
HED is a low-head water-retaining sluice which is installed on a monoblock hinged support in conjunction with a small-angle swing cylinder. It goes up to retain water and down to discharge water by rotating around the bottom shaft within a certain angle, as the cylinder is powered by the hydraulic pump station to stretch out and retract. It is applicable to scenarios with an impounding height of 1-5 meters, such as river landscape, storage for irrigation, reservoir expansion, and ecological water storage in rivers and lakes, especially water storage in mountainous areas where floodwater rise and fall or during the glacial period. Hydraulic elevator dam has been put into mass production, and have been widely applied in China, Myanmar, Thailand and Bangladesh.