In order to implement the national "river strategy" and the governance concept of mountains, rivers, forests, fields, lakes, grass and sand systems, and promote the high-quality development of water conservancy, the "Global River Forum" hosted by IWHR was held in Beijing on August 24 in a combination of online and offline. Kuang Shangfu, President of IWHR, asit K. Biswas, winner of Stockholm Water Prize and visiting professor of Glasgow University, Jose Oliveira, vice president of Wiley press and Wu Yan, senior publishing director of China, delivered opening speeches.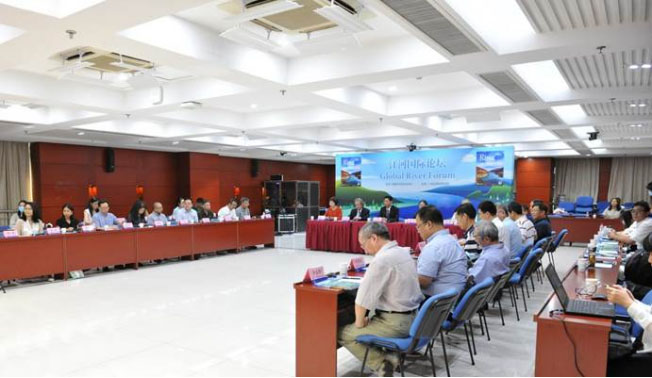 Kuang Shangfu pointed out in his speech at the opening ceremony that rivers are the arteries of the earth, the birthplace of human civilization, and the lifeline of human social and economic development. From the Nile River to the two river basins, from the Ganges River to the Yellow River and the Yangtze river basins, rivers have nurtured splendid ancient civilizations and created modern glories. They are also important links for human society to realize the UN 2030 agenda for sustainable development. In recent years, China has paid more attention to river ecological protection and systematic governance. The development of the Yangtze River economic belt and the ecological protection and high-quality development of the Yellow River Basin have been included in the major national strategies. Through the systematic governance of the river basin, the river lake leader system and other conceptual changes and institutional mechanism innovation, the green transformation of economic and social development has been promoted, and the new progress of ecological civilization construction has been promoted.
Asit Biswas pointed out in his speech that rivers are not only indispensable in all related topics of nature and ecology, but also important in revitalizing the economy and promoting employment. In the 2020s, human beings need to explore river related issues on the basis of interdisciplinary, cross sectoral and cross topic. He quoted Confucius' viewpoint of "applying what he learned" and emphasized that river journal hopes to apply its research results to water control practice and make contributions to improving life and environment on the earth.
In their speeches, Ou Zhe and Wu Yan said that building world-class scientific and technological journals is not only the strategic need of China's scientific and technological power, but also the bounden responsibility of the scientific and technological community and the periodical community. Wiley publishing group is full of confidence and expectation to conclude a new partnership with the Chinese Academy of water sciences. It will work together to deepen the partnership, build the river journal into a new interdisciplinary platform in water related fields, share China's research achievements with the world, and jointly promote global knowledge progress.
In the presence of the guests and media friends, the guest Representatives took the stage to congratulate the first issue of river.