IWHR, together with the United Nations Educational, Scientific and Cultural Organization (UNESCO) and the Dujiangyan Water Resources Development Center in middle-west China's Sichuan Province, successfully co-hosted the 2nd International Seminar on Water Culture on December 1 in an online-offline-combined manner.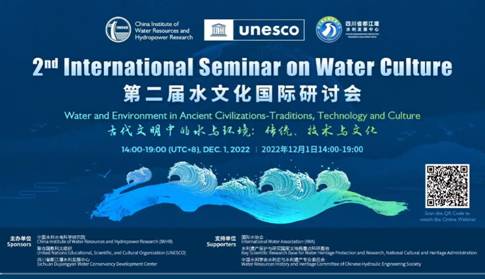 This seminar is the second of its kind since 2021, when the first one was co-hosted by IWHR and UNESCO under the theme "Water and Civilization - Inheritance and Innovation of Water Culture" to provoke thoughts on the relations between water and civilization and share water-culture-related practices.
This year's Seminar, with "Water and Environment in Ancient Civilizations – Traditions, Technology and Culture" as its theme, dug deeper into the cultural value of water and its practical use. As IWHR Vice President Dr. Peng Jing introduced in her opening remarks, it was aimed to boost the cooperation of relevant parties and share the knowledge and experience of countries around the world in dealing with the relations of water and environment.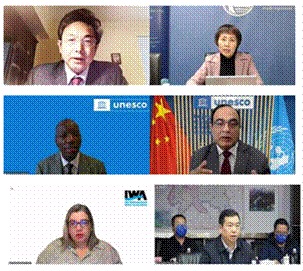 "It is our hope to take our history and neighbor's experience as the mirror, to shed light on the modern water culture, and to pool our strength for building a beautiful planet and achieving the sustainable development of human beings," said Dr. Peng Jing.
Also speaking at the opening ceremony were several distinguished guests, including Mr. Abou Amani, Director of the Division of Water Science, Secretary of the Intergovernmental Hydrological Programme (IHP) of UNESCO; Mr. Li Ge, Deputy Director General of the Department of International Cooperation, Science and Technology of the Ministry of Water Resources of China; Mr. Zhu Zehua, Director of Dujiangyan Water Resources Development Center; Professor Shahbaz Khan, Director of UNESCO Beijing Cluster Office; and Ms. Daniela Bemfica, Strategic Programmes & Engagement Director of the International Water Association (IWA).
The Seminar convened 10 experts from China, Greece, France and Croatia to illustrate water wisdom in ancient cultures around the world and to learn from the nature-based solutions in our history as today's reference.
Global live streaming of the Seminar attracted over 1,100 audiences from more than 20 countries.