Belt and Road Initiative Carlot Hydropower Station in Pakistan is put into operation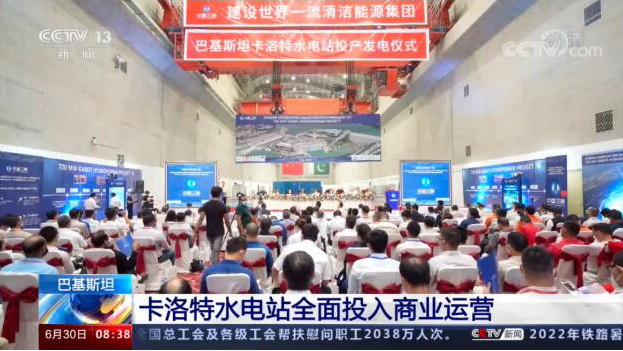 Four units of Carlot Hydropower Station in Pakistan have successfully completed the 168-hour trial operation test and completed the last node test before the commercial operation of COD (Commercial Operation Date) of the power station. As the Brazilian power grid department formally handed over the COD certificate to the three Gorges Group, it marked the full commercial operation of the Carlot Hydropower Station, the first hydropower investment project in the China-Pakistan Economic Corridor invested and developed by the China three Gorges Group.
In the central control room of Carlot Hydropower Station, the technicians and Pakistani staff from our hospital are nervously counting, calculating and analyzing the data of the hydropower station. The rotors of four generator sets in the plant are running at full speed, converting a steady stream of hydropower into clean electricity, injecting new power into Pakistan's national grid.
"the H9000 system we use is a computer monitoring system with independent intellectual property rights, which is developed for giant hydropower stations such as the three Gorges. The system adopts a hierarchical and open system architecture, and has completely independent intellectual property rights in hydropower station cluster communication, massive data transmission and processing, gate and power generation cooperative remote control, intelligent alarm and fault analysis, etc. it represents the international first-class technical level of computer monitoring of hydropower stations. " Yan Xianbo, the project manager from our hospital, told the Xinhua News Agency reporter who was interviewed at the scene.
The Carlot Hydropower Station, located in Carlot District, Punjab Province, Pakistan, is the fourth stage of the cascade hydropower planning of the Giram River. Carlot Hydropower Station is the first hydropower investment project in China's hydropower industry to be included in the joint statement between China and Pakistan. It is the first hydropower investment project of "Belt and Road Initiative" and "China-Pakistan Economic Corridor". It is also the "first order" of investment after the establishment of the Silk Road Fund. The full production of the project will provide clean and cheap electricity to Pakistan and will effectively alleviate the power shortage in the country. To play an active role in promoting the social and economic development of Pakistan.
Carlot Hydropower Station is a demonstration project that adopts and exports Chinese standards, and it is a demonstration project that integrates Chinese design, construction, equipment and construction management of the whole industry chain. It is also the first application of H9000 computer monitoring series products of BIC and Technology Company in Pakistan, which is of great significance for our H9000 computer monitoring system to open up the Pakistani market and move towards the world.